Work From Home Customer Service with Verizon
Work from home customer service representatives
Our greatest strength is our employees. Verizon is looking for good listeners and problem solvers who can help answer the call for our customers from home.
As a work from home representative, you'll deliver a positive experience that solves customers' challenges in one call. While working to resolve issues, you'll also help drive sales on products and services that will keep them happy and connected.
You'll be part of a team – even at home. Virtual meetings, conference calls and online group chats are a big part of this role so you can get to know and collaborate with your fellow V Teamers. A culture of learning keeps our people at the forefront of an ever-changing industry.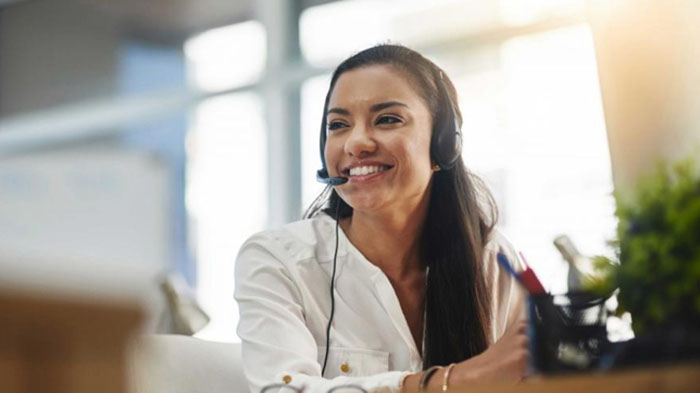 Invested in you
At Verizon, you'll have the ability to pursue your ambitions and grow your career. We've got you covered with a total rewards package that includes up to $8k/year in tuition assistance, 401(k) savings plan with company match, 8 weeks parental leave, 50% off your Verizon wireless service, and more.
What we're looking for. 
Problem solvers who lead with empathy. When customers come to us with complex challenges, you'll respond with patience, ensuring they feel heard and cared for. No two calls are the same, so you'll know how to apply your resources to determine the right solutions.
You're motivated by change. Whether it's using new tools to better serve our customers or trying different ways to generate sales, you're up for the challenge. 
In addition to these qualifications, you'll also need to meet our home office and technical setup requirements. Please review the qualifications and requirements below.
Responsibilities & requirements
Candidate qualifications
Specifically, you'll need to have:
Willingness to work a schedule that is primarily evenings and weekends (and occasional holidays).
High school diploma or GED.
One or more years of customer service or sales experience.
Meet all home office requirements.
Even better if you have one or more of the following:
Demonstrated self-discipline, time management, ability to collaborate virtually.
Experience resolving customer issues, billing, and/or handling product Q&A.
Interest in learning new technologies.
Experience promoting and/or selling products and services.
Demonstrated communication skills.
Home office requirements
Verizon will provide:
A monthly monetary stipend for internet service.
Computer equipment.
Desk and chair options after successful completion of training.
You will need to provide:
Internet service with a direct connection to a cable or fiber modem and capable of at least 25mbps plan minimum. Wireless connections, satellite or DSL are not acceptable.
A private workspace with limited distractions and minimal background noise.
Adequate heating and lighting for the workspace.
Agreement to periodic visual inspection of their home workspace via webcam.
Work from home customer service FAQs
What is a work from home customer service representative?
Work from home customer service representatives are skilled problem solvers and excellent communicators who can listen carefully to a customer's questions, assess their needs and use the tools and resources at their disposal to address any concerns.
What type of issues does a customer service representative typically handle?
Our work from home customer service representatives assist Verizon customers with any of the following:
Resolving device issues using troubleshooting techniques and providing clear and concise information.
Help drive sales by offering products and services that will improve the customer's wireless experience.
Reviewing account information and answering questions about billing or services. 
Which locations offer this position?
This is a work-from-home role performed almost exclusively from your home office with occasional in-person meetings and training.
Positions are offered to those residing in: Alabama, Arizona, Arkansas, Colorado, Florida, Georgia, Illinois, Minnesota, New Mexico, North Carolina, Ohio, Oregon, South Carolina, Tennessee, Texas, Utah, and Washington. 
How are shifts determined?
Shifts are based upon current business needs and will be discussed during the interview process. The work schedules for this role include working nights, holidays, and weekends, but you may be able to explore additional shifts based on availability.
Will I be reimbursed for internet use?
Verizon provides a monetary stipend of $50 per month to offset internet fees. Depending on the cost charged by your local internet provider, the amount provided may not cover 100% of the fees charged.
What type of training is provided?
Comprehensive new employee training and job-specific training is provided. New employee training introduces you to Verizon's culture, teammates and workplace processes. Training can last up to 13 weeks and provides work from home reps with the skill-building necessary to support Verizon customers.
Apply
Your application has been successfully submitted.